Design and Synthesis of an Efficient Nanophotosensitizer used in Photodynamic Therapy
Neda Attaran Kakhki

Science and Research Branch, Islamic Azad University

Hossein Eshghi

2Department of Chemistry, School of Sciences, Ferdowsi University of Mashhad, 91775-1436, Mashhad, Iran

Ameneh Sazgarnia

Department of Medical Physics, Mashhad University of Medical Sciences, Mashhad, Iran

Mehdi Bakavoli

2Department of Chemistry, School of Sciences, Ferdowsi University of Mashhad, 91775-1436, Mashhad, Iran

Samaneh Soudmand

Department of Medical Physics, Mashhad University of Medical Sciences, Mashhad, Iran
Abstract
Gold nanoparticle (GNP) was used for the delivery of a hydrophobic protoporphyrin IX (PpIX) as an efficient photosensitizer for photodynamic therapy. This conjugated GNPs were made by a single coupling reaction. Their optical properties indicate that PpIX-GNP conjugates could be used as a photosensitizer in photodynamic therapy (PDT) through the formulation of singlet oxygen. The GNP conjugates have an average diameter of 7 nm. Also, the 'dark' toxicity test of each of these individual components of these nanoparticles were carried on Hela cells.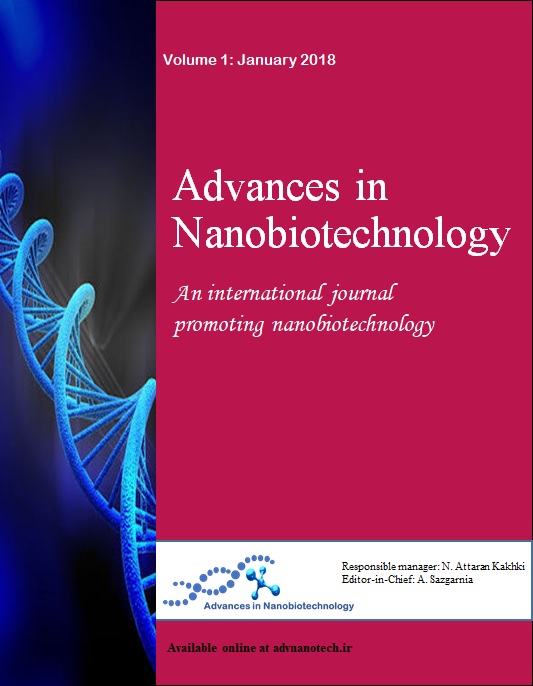 How to Cite
ATTARAN KAKHKI, Neda et al. Design and Synthesis of an Efficient Nanophotosensitizer used in Photodynamic Therapy.
Advances in Nanobiotechnology
, [S.l.], v. 1, n. 1, p. 21-25, jan. 2018. Available at: <
http://advnanotech.ir/index.php/advnanotech/article/view/7
>. Date accessed: 26 sep. 2023.